3 Tips for Styling Your Jewelry for Summer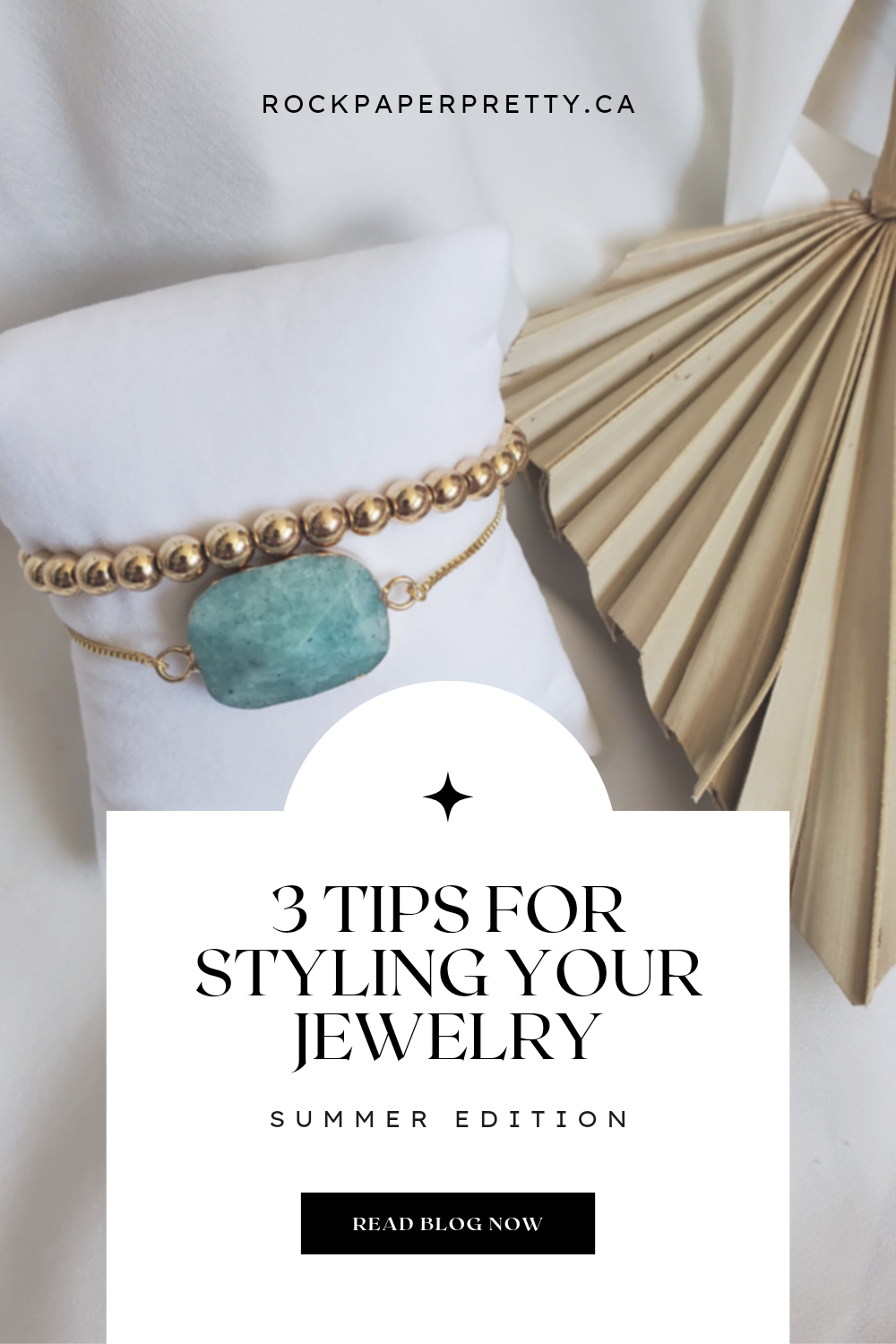 Embrace Your Summer Style


Summer is our favourite season. We love everything about it! The clothes, the food, the weather, the cottage, the patios, and especially, the jewelry! This is the perfect time to add in some pops of colour to your everyday wardrobe, whether you're running errands, relaxing on the dock, or heading out for date night. It's easy to incorporate some delicate summer layers, or bright and bold statement pieces to whatever your're wearing! We've listed below, 3 easy and simple ways that you can change up your jewelry for the summer season.
Here are 3 tips for styling your jewelry for summer:

POP of colour!

Don't be afraid of a little colour! Summer is the perfect time to add something fun to your wardrobe like our Fiesta necklace. This 18k gold plated fish tail chain with coloured enamel accents will look amazing with a crisp white dress, or paired with a crop top, your favourite jean shorts and a cute pair of sandals. If you're used to wearing neutrals, this is the time to step out of your comfort zone. By adding colour with your accessories, you can easily add just the right amount of colour to any of your summer outfits!

Delicate layers

With all those cute summer dresses, and lower necklines, try layering your necklaces for more of a statement look. Use necklaces of different lengths and different styles. You want the necklace lengths to be 2 inches apart or more. Combine a plain chain with a pendant necklace (or 2!). We layered our Moonstone Sunrise necklace with the Boreal convertible choker/necklace and finished the look with the Evil Eye necklace.

The perfect stack

Summer is the perfect time to show off some arm candy! Stack those bracelets up! Don't be afraid to mix gemstones and metals. For an easy way to stack your bracelets, remember the rule of 3. Odd numbers are always more esthetically appealing. Start off with a statement bracelet, then add a hematite stacker, then finish with a coordinating gemstone bracelet or diffuser bracelet. Voila! Your stack is complete!

3 ways to style your jewelry for summer

Styling your jewelry doesn't have to be hard. Have fun with it and try out some different combinations with jewelry you aIready have. I would love to know if you decide to try any of these tips. Take a picture and share it on instagram and tag me, @rockpaperpretty. If you want more styling tips like this, make sure to enter your email below so you don't miss anything. Happy summer styling!!!