Gold Filled vs. Gold Plated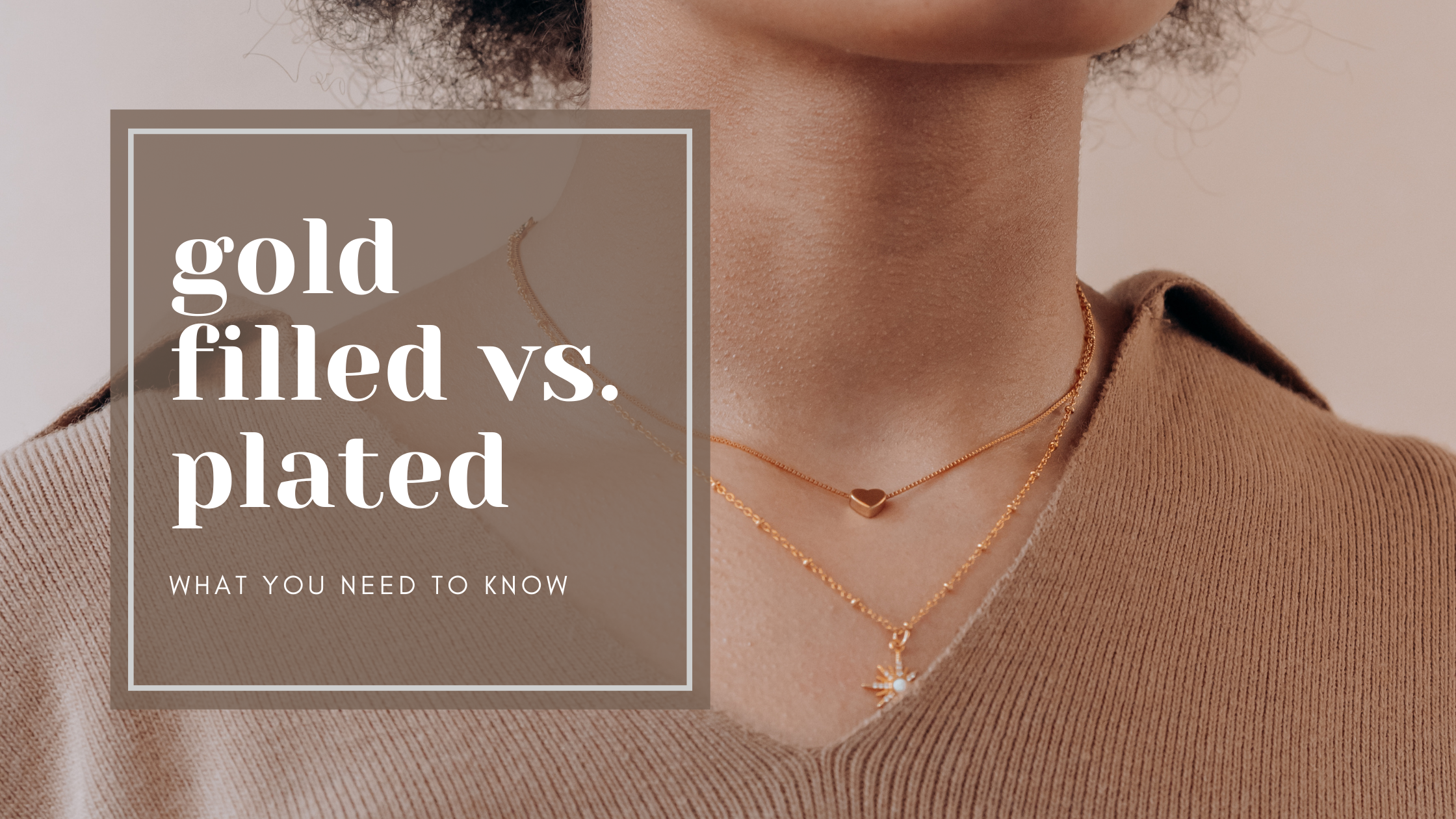 You've heard the terms "gold plated" and "gold filled", but what does it mean? And is there a difference?

They are sometimes used interchangeably, but they are NOT the same! It's helpful to know the difference between gold plated and gold filled when you are buying a new piece of jewelry. Here, I will go through the differences of both, so the next time you are looking for a new necklace or pair of earrings, you can make an educated purchase.

There are several main differences, not just the price!
14K gold filled bar necklace
Apatite and Aquamarine sun with gold plated chain
Gold filled jewelry has a thick layer of real solid gold, heat bonded over a base metal. 
Contains at least 5% real gold
Will not tarnish.
Very durable. Will last a lifetime if cared for.
Best for daily wear and meaningful, timeless gifts.
Because of the higher gold content in gold filled jewelry, it will also come with a higher price tag than gold plated jewelry. It is a great alternative and more economical option than solid gold.

Buy gold filled jewelry if you want your jewelry to last a long time and still look like new, and you want to wear it everyday.
Extremely thin layer of gold over brass or base metal
Contains only 0.05% real gold
Easily tarnishes
Not very durable. Gold plating will easily come off with regular wear, lotions, water and oil.
Best for occasional wear and more on trend styles.

Buy gold plated jewelry if the design is more trendy, and if you plan on only wearing it occasionally.
Typically costs less since there is less gold in gold plated jewelry.
 
Gold Filled vs. Gold Plated jewelry

Hopefully now, you will find it easier to decide between gold filled and gold plated jewelry. Both are great but depending on how much you plan on wearing your jewelry, as well as how long you want to have it looking like new, will ultimately determine which one is right for you!

Rock Paper Pretty's jewelry is made with both options. Most of our gold necklaces and earrings are made with 14k gold filled. This is important to us since we want you to be able to wear your jewelry everyday! There are also a few styles using gold plated elements. You can shop our jewelry here.

So I'm curious, which do you prefer? Gold filled? Or gold plated?
xo, Dana